Something is always.No woman is satisfied with herself.But while you can help yourself with other problems quite well, the body size can be difficult to change.Small women can cheat with high heels a few inches.Big women, of course, can not make themselves smaller than they are.How can I style my body size?A question that sooner or later poses everyone.An individual response, which suits everyone, is difficult to find and, of course, not covered in a blog contribution.But there are so some tricks and tricks on how to get the most out of its body size.No matter whether you are small or big.
Small women big
Being a small woman is not easy either.Many of the pants or shirts seem really designed only for large models.And at some point it is frustrating when you are always in the dressing room when shopping and can admire in too long outfits.If only the path to the change trimmer of trust remains or you do without the purchase.But that is not a solution either.And help is approaching.
If you are looking for a suitable jacket, you do not have to go past coats and coats.Instead of using the usual models, you can simply use the short jacket or the short coat, which is usually available in every season, regardless of certain trends.If you have a little bit more range, you have a blousson.Pay attention to materials that are not too coarse and cuts that underline your femininity.
For skirts and dresses the selection is huge and also here smaller women can choose the shorter models.If the dress or the shirt has a button strip, it stretches the upper body optically.Shoes with higher heels have long been known as a remedy.You can wear higher boots for clothes.Whoever can and wants, chooses his pants tightly and so that the hem does not rest on the shoes.
Combines the upper and lower parts of the outfit in similar shades and uses smaller, vertical patterns in the pattern mix.When choosing the accessories, it is an advantage if the belt has the same color as the pants or the skirt.In general, the accessories should be somewhat smaller, larger accessories are visually impressive and make the whole effort, which was previously invested in the styling, only broken again.
Did you know that the hairstyle can also make a significant contribution to making your optics look bigger or smaller?For example, if the hair is on the shoulder, it is still a little smaller.However, if you put it up or put on a beautiful short haircut, you are a little bigger.
Great women, big problems?
If you do not belong to this target group yourself, you may think that these women have no problem at all.Fashion seems designed for her, everything fits.Nothing is too long, does not grind on the floor and everything is wonderful.But no, even these women have their worries and often feel too big.So what do you do if you want to optically reduce something?
In principle one would have to reverse the gimmicks, which are applied by small women.Nor is this attitude so wrong.If you have long legs and really want to conceal something, you should opt for wide, elegantly cut pants like the Marlene pants.If the pants still have an impact on the legs, the leg is compressed, it appears shorter.The same is true for Capri pants, which leave the ankle exposed and slightly shortened by their shape.
The layer look also compresses the body, but the layers should not only be limited to the upper body, but also over the hip.Coarse materials reinforce the effect.When choosing a pattern, large women can choose the way they want, great patterns are optimal, but not a must.However, transverse strips have an elongating effect.Deep cut-outs are allowed, but when they are in the V-shape, the view is not only directed to the decollet.Because this neckline stretches the upper body enormously and one can easily appear even larger.
A common opinion is that (very) large women should avoid high sales.This is now outdated.Of course ballerinas, flip flops or flat sandals look quite nice.But why not give up on Pumps and Co.?It does not have to be.Straight shoes with a high heel allow feet to look narrower and shape the female silhouette from the foot to the upper body in a way that flat shoes can not.Shoes with a tapered toe will make your feet look even bigger, so women on a large foot will have better fingers.There are also still enough beautiful pumps or boots.
You can see, with a few tricks, you can always style and look smaller or bigger, just as you want.
Gallery
Sofia Vergara: Sample Size Is 'Insane' For My Body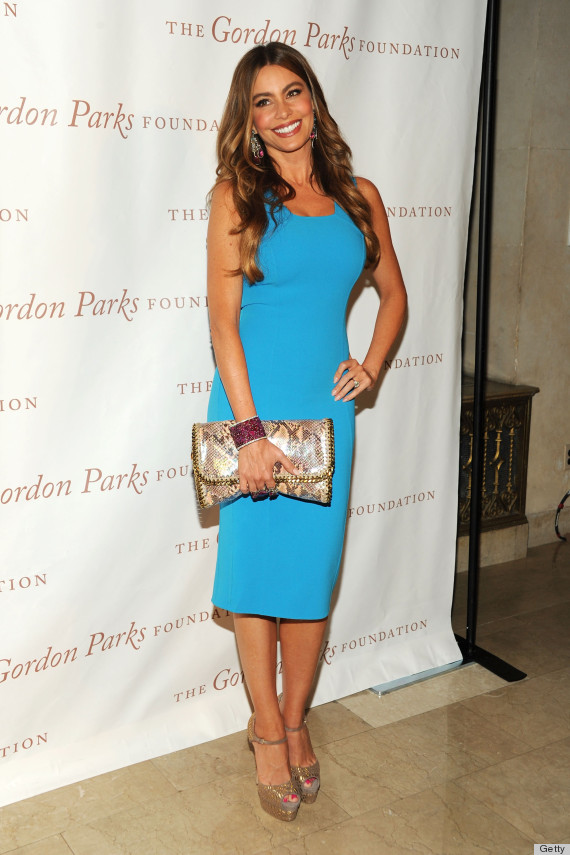 Source: www.huffingtonpost.com
102 best images about My Style on Pinterest
Source: www.pinterest.com
17 Best images about Shapewear on Pinterest
Source: www.pinterest.com
23 best Maternity Lingerie images on Pinterest
Source: www.pinterest.com
Gigi Hadid pens letter to fat shamers
Source: www.independent.ie
2 plus-size models are fighting Korea's fat phobia with …
Source: www.revelist.com
17 Best images about Smokingi on Pinterest
Source: www.pinterest.com
8 Best Soap Bars for Men
Source: gearpatrol.com
Prima Donna Twist Only You Padded Balcony Bra
Source: www.bravalingerie.com.au
vintage plus size wedding dress
Source: haircomesthebride.wordpress.com
Elomi Caitlyn Side Support Bra
Source: www.bravalingerie.com.au
35L UGLYBROS Mach 6 Hard Shell Case Motorcycle Sport Bike …
Source: www.ebay.com
Acupressure Handheld Massager
Source: www.changeyourenergy.com
5 Tips To Look More Muscular
Source: www.realmenrealstyle.com
349 best Clothes for the apple body shape images on …
Source: www.pinterest.com
How To Dress The Inverted Triangle Body Type
Source: www.cyndispivey.com
Foods To Eat And To Avoid For Different Body Shapes …
Source: www.fitnessvsweightloss.com
Six crafty ways to hide the holiday bloat — Project Vanity
Source: www.projectvanity.com
Kim Kardashian's doctor warns her she's having TOO MUCH …
Source: www.dailymail.co.uk
Body Shapes and How to Dress for Them
Source: www.justyouraveragemomma.com